Should you save money or Pay off High-Interest credit card debt?
The answer to this is simple. Any credit card debt that is higher than your savings interest rate needs to be paid off in full before you begin saving. Otherwise, all the money you have saved up and all the interest you're creating on that money is less than the interest from the debt. Meaning you will end up spending money to save money.
What is the interest rate on a normal savings account?
You will not find typical savings accounts with more than 0.06% annual percentage yield (APY). Most national large banks won't pay more than 0.01% interest on their normal savings accounts. Which is basically nothing. When most people carry interest rates on their cards of +18% that's a staggering difference. What sounds better to you?
What about High Yield Savings Accounts?
For starters, most of these accounts require a minimum deposit. For anything meaningful, you're looking at a minimum deposit. You can find an account with less than a 2% APY with no minimum deposit. For example, this Citi account that is 1.85% APY. However, 1.85% really is not much. When looking at investing you want something over 8%. Ideal somewhere in double digits. This would allow you to grow your portfolio and wealth rather quickly.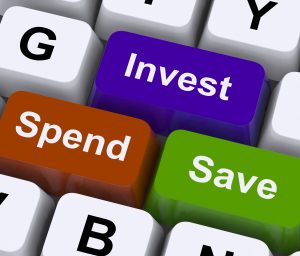 So how do I get 8% or more on my investments?
There are a few options if you are looking at rapidly growing your wealth and investments. But the first thing is – Don't let your money sit. Make it work for you. You can start with a High Yield bond. These bonds can yield up to 8% on your money. Which is way better than that 1.85%. This comes with a much higher risk. High Yield bonds are used with lower credit ratings. Creating a much higher risk of default. However, if played correctly there is a much higher return.
Another type of investment is a closed-end fund. These funds are created to do two jobs. Long term financial growth, and as an added or substitute for income. These funds use shares as if it was a company. There is even an IPO. The fund is unique in that after IPO there is no need to worry about how they can get other investors. Closed ends funds could be the right option for you. They tend to yield anywhere from 8-11% return.
The final way of saving money that I'll mention here is Life Insurance. Through a Whole Life or an IUL or even a UL, you can build cash value that fits your financial goals and needs. You can use the money to save for retirement, or as income replacement when you're older and have the ability to take out a percentage of that money each year. If you have questions about how you can use Life Insurance to fit your financial goals. We can help.
Get with one of our life and financial experts today! They can help you choose a policy. Additionally, they can conduct a policy review to ensure that your current policy is still right for you!
1-888-539-1633