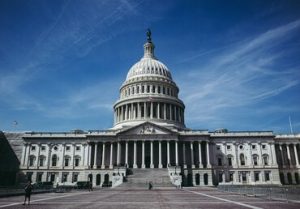 Congress has been working hard throughout the week as a stimulus package agreement is inching closer. The deal as currently constructed would include stimulus checks. The rumored value of the stimulus checks is $600, just half of the first stimulus check payment at the beginning of the pandemic. The total cost of the package will be around $900 billion.
Direct checks to people below a certain income level and additional federal unemployment benefits expect to be part of the deal. While this version of the package includes stimulus checks, it doesn't include federal aid for governments on the state or local level, nor does it give businesses liability protections. However, this is part of a much larger financial agreement for the new fiscal year that the government must reach by midnight Friday to avoid a shutdown. The stimulus package would be an attachment to the overall funding plan.
The first stimulus package, dubbed the CARES Act, was a $2.2 trillion plan that gave unemployment benefits of $600 per week (which ended in July) and $1,200 stimulus checks to those eligible. With time counting down on the deadline, the importance of getting this deal done by the end of the day Friday is increasing by the second. Millions of Americans could use the extra stimulus checks, especially around the holidays.
While it is less than half of the first stimulus package, it would still be a big boost to those struggling during these unprecedented times. Small businesses are struggling to stay afloat, especially with additional restrictions in some states.
According to CBSDFW, the long-term unemployment total rose to 3.9 million people in November. Long-term represents those unemployed for 27 weeks or more. That number now accounts for 36.9 percent of all unemployed people. In short, a lot of people have been unemployed for a long time, and another stimulus package would be a welcomed sight for millions in the country. Congress has until midnight to agree to provide the stimulus package and avoid a shutdown.
Life Insurance Questions?
We hope this information on Stimulus Package Agreement is Inching Closer is helpful.
If you'd like to learn how we can help you plan your retirement, call Empower Brokerage to speak to one of our Life and Annuity experts (888) 539-1633
Get affordable life insurance quotes by clicking here.
See our other websites: