A True Life Insurance Story
This is a true-life insurance story. Enrique Torres had a very similar situation happen to him in his career. Events and information have been changed for the privacy of the individuals.
A story of family
I've been asked to share one of my true life stories that I experienced in my career as a life insurance agent. Obviously I'm changing the names and the circumstance a little bit.
Agent Meeting
I once got a phone call from someone, a husband if you will. I visited with them at his home and he already had some coverage at work, but he was concerned about having a little bit more. They had two fairly young children and they had another child on the way. His career was going great and this person was in their mid to late thirties. Both of them were pretty proactive about their lifestyle. They were making the right financial decisions and wanted to make sure they had enough coverage for their family.
I sat down with them and did a needs analysis. We came up with a number – based on their wishes – that would take care of their family should anything happen. We got everything done. We got the application in place and got the policy in place. Everybody was on board. 
The Phone call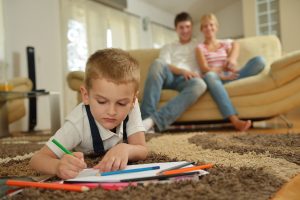 About a year and a half later I get a phone call from the spouse. She was letting me know that her husband had just passed away. He passed away unexpectedly and she had just gotten home from the hospital. Her instructions were to give me a call if anything should happen to him. I followed up with them, and everything was as I said it was. In this case, the house was paid for and the kids' college was taken care of. She wanted to be around her family, and because neither of them was from the area she needed to move back to her family.
She was able to take care of all that because of what she and her husband decided to do. They gave me a call and took care of their family. Someone asked me why are you selling Life Insurance. It's because I know firsthand how much of an impact this has on someone's life and someone's family. Just know that you can protect your family with a simple call. Think about what would happen financially to your family if your income was no longer a part of the equation. Would they be able to afford that wonderful house? Pay for college? The car?
Get with one of our life and financial experts today! They can help you choose a policy. Additionally, they can conduct a policy review to ensure that your current policy is still right for you!
1-888-539-1633