Apple Watch Series 5 new features
Apple Watch Series 5 watch has a new feature built-in. It's an ECG similar to a single-lead electrocardiogram generally used for basic heart monitoring, or checking for various arrhythmia. Apple included these features to give consumers more control of basic heart rate monitoring. 
Health Benefits
There are benefits to being able to closely check and monitor your heart. This could include arrhythmia detection related to other heart diseases or cardiac issues. Apple had this to say about the Series 5 ECG feature, "ECG on your wrist. Anytime, anywhere. With the ECG app,1 Apple Watch Series 5 is capable of generating an ECG similar to a single-lead electrocardiogram. It's a momentous achievement for a wearable device that can provide critical data for doctors and peace of mind for you."
The ECG uses a digital crown and the back crystal combined with the ECG app to read out your heart measurements. You use your finger for the test. The ECG app works in only 30 seconds, all you need to do is touch your finger to the digital crown and wait. The ECG app can indicate if your heart is in atrial fibrillation, a serious form of irregular heart rhythm. The ECG app will also indicate if your heart is in sinus rhythm, which means your heart is beating in a normal pattern,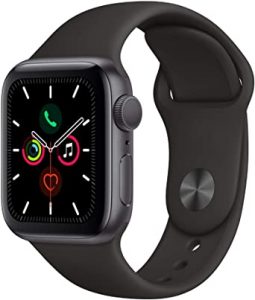 Other Health Features
The watch also includes a fall detection system that can detect if you've had a hard fall. Additionally, when apple detects a hard fall you can call emergency services directly from your watch. That means a direct line to 911.
"Apple Watch Series 5 can detect that you've fallen. When an incident like this occurs, a hard fall alert is delivered, and you can easily initiate a call to emergency services or dismiss the alert. If you're unresponsive after 60 seconds, the emergency call will be placed automatically. Your emergency contacts will then be notified and sent your location." says Apple.
Finally, there is an easy way to set off an SOS alert and call emergency services from anywhere in the world. Your iPhone does not even need to be close by. However, you will need the cellular version of the watch.
"You can complete a call to emergency services when traveling abroad. Just press and hold the side button on Apple Watch Series 5 with cellular and you'll be connected with the help you need. It even works if you're nowhere near your iPhone." says Apple.
key takeaways
The apple watch can be an excellent option for someone that is more health-conscious, or even those who might not be. The apple watch has proven time and time again to save lives. With these built-in features, it's quickly proving to be one of the most advanced watches on the market.
ECG that is similar to a single-lead electrocardiogram
Fall Detection with emergencies dispatch capabilities
international calling for emergency services
Health apps designed to work with the apple watch hardware
Get with one of our life and financial experts today! They can help you choose a policy. Additionally, they can conduct a policy review to ensure that your current policy is still right for you!
1-888-539-1633