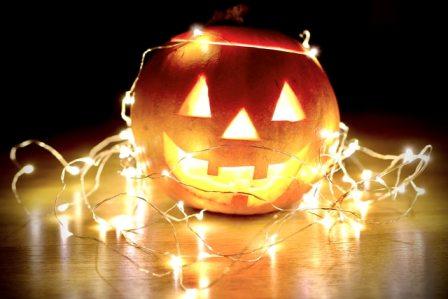 With the Halloween season rapidly approaching, we may be in for more frights than usual. Cooler temps and flu season may lead to another wave of the coronavirus, so it's important to protect yourself and others from any unnecessary exposure during the holiday season. Although the holidays will likely look different this year, there are still lots of ways to make memories with your family. By following the CDC and local law enforcement guidelines, families can safely and successfully navigate Halloween and COVID-19.
A Halloween History
The history of the modern-day Halloween can be traced back to the Celtic Samhain festival, which was thought to be when spirits returned to earth to wreak havoc on crops after the autumn equinox. This tradition was tweaked by the Romans and then passed through the catholic church on the way to becoming the Halloween we know and love today. The first American Halloween celebrations didn't occur until the Europeans colonized America in the 15th and 16th centuries.
As the new settlers' belief systems and customs began to intertwine with those of the Native Americans, an array of fall festivals and traditions slowly morphed into one of America's favorite holidays. By the late 1800s, new immigrants, like those escaping the Irish potato famine, helped spread American Halloween across the country. Today, Halloween is best known for costume parties and trick-or-treating, where children travel from door to door in costumes in hopes of picking up some tasty treats and goodies.
CDC Recommendations
Halloween is typically a time for scary movies and haunted houses, but this year's festivities may be more frightening than usual due to the ongoing coronavirus concern. To help combat this concern, the CDC has released a full statement on its website that includes a list of which activities to partake in, which to be wary of, and which to avoid when possible.
Those activities to avoid include traditional trick-or-treating without appropriate social distancing and preventative measures, attending crowded parties, going to indoor haunted houses where one may not be able to keep six feet between you and other attendees, traveling outside one's geographical area to attend festivals or events, and going on tractor rides or hayrides with people outside of one's immediate family.
Though Halloween may look different this year, the holiday is far from being canceled. In fact, there are several ways that individuals can make their Halloween season stand out while remaining safe during the COVID-19 pandemic.
Staying Safe During Halloween and COVID-19
Halloween in the age of COVID doesn't have to be boring; there are tons of fun activities to partake in alone or with loved ones!
The CDC recommends participating in low-risk activities this Halloween, like carving pumpkins with one's family, decorating the house with spooky décor, hosting a virtual costume contest, or putting together a Halloween-themed scavenger hunt in one's home or around the neighborhood.
The organization also lists some moderate risk activities, which should be carefully monitored and modified to maintain social distancing efforts. This list includes holding a traditional trick-or-treat celebration but preparing goodie bags and placing them away from the front door for families to grab as they pass by at a safe distance. The CDC also suggests being cautious when attending open-air haunted forest attractions, visiting pumpkin patches and orchards where many people may be touching the same produce or surfaces, and attending outdoor get-togethers.
Whatever you choose to do this Halloween, remember to stay safe and make some amazing memories with the people you love!
Life Insurance Questions?
We hope this information on staying safe during Halloween and COVID-19 is helpful.
If you'd like to learn how we can help you plan your retirement, call Empower Brokerage to speak to one of our Life and Annuity experts (888) 539-1633.
Get affordable life insurance quotes by clicking here.
See our other websites: