Could the SBA get more funding for PPP and EIDL?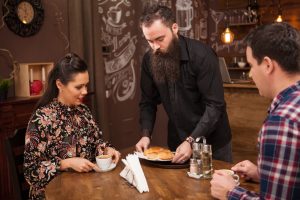 On Thursday, April 16th, 2020 the SBA officially exhausted all PPP (Payroll Protectin Program) and EIDL (Economic injury disaster loans) funds. This means that the applications have officially been closed and there is no longer any more funding available in either program. The original CARES act was passed on Friday, March 27th, 2020, and allowed for 349 billion to be given to the SBA to fund small businesses, dubbed as the PPP, or Payroll Protection Program to provide forgivable loans to small businesses that meet certain requirements. The bill additionally allocated 10 billion for the EIDL, or Economic Injury Disaster Loan. The program was created to provide immediate assistance to small businesses that were affected by COVID-19.
What is PPP?
The paycheck protection program is a set of potentially forgivable loans set forth by the federal government to ease the loss of revenue that was caused by COVID-19.
What is EIDL?
The Economic Injury Disaster Loan is a loan that was created to give advances to businesses so that they can pay expenses or pay employees while they wait on their PPP loans or other loans that they have.
These two programs are part of the government's initiative to help save small businesses affected by COVID-19. On Tuesday, April 22nd, 2020. the senate unanimously passed the winter stimulus package that would provide extra funds for the PPP and EIDL program. The package also included immediate assistance to hospitals and local governments.
Then on Thursday, April 23rd, 2020, the house of representatives passed the bill. The president is expected to vote on the bill on April 24th, 2020.
When can we expect the SBA to reopen to application portal?
Currently, the SBA has the portal created, and likely nothing will need to be changed from the previous version. Once the President signs the bill into law, the SBA should release the portal and remove the notice of lapse in appropriations message.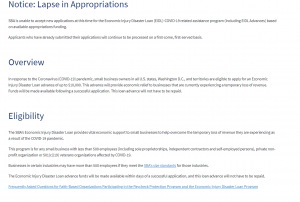 Who is eligible?
Eligibility is dependent on which program you are attempting to apply for. The PPP has different requirements than the EIDL. Here are the PPP's requirements:
Any small business concern that meets SBA's size standards (either the industry based sized standard or the alternative size standard)

Any business, 501(c)(3) non-profit organization, 501(c)(19) veterans organization, or Tribal business concern (sec. 31(b)(2)(C) of the Small Business Act) with the greater of:
500 employees, or
That meets the SBA industry size standard if more than 500

Any business with a NAICS Code that begins with 72 (Accommodations and Food Services) that has more than one physical location and employs less than 500 per location
Sole proprietors, independent contractors, and self-employed persons
While the EIDL's requirements are:
This program is for any small business with less than 500 employees (including sole proprietorships, independent contractors and self-employed persons), private non-profit organizations, or 501(c)(19) veterans organizations affected by COVID-19.
Businesses in certain industries may have more than 500 employees if they meet the SBA's size standards for those industries.
The Economic Injury Disaster Loan advance funds will be made available within days of a successful application, and this loan advance will not have to be repaid.
If you have further questions regarding the PPP or EIDL we suggest you contact the SBA (Small Business administration) you can learn more about the PPP here and the EIDL here. Their contact information can be found here.
Get with one of our life and financial experts today! They can help you choose a policy. Additionally, they can conduct a policy review to ensure that your current policy is still right for you!
1-888-539-1633