As hospitals are doing their best to keep COVID patients isolated in order to stop the spread of the virus, many patients are finding it difficult to sit still and be, well…patient. But many doctors have done their best to find ways to keep patients entertained and upbeat by having them make video calls to their families. Visitation restrictions have been heavily enforced since the start of the pandemic, but hospital staff members want their patients to be able to stay connected to their loved ones while maintaining everyone's safety. Doctors in many states across the U.S. have begun collecting iPads and other smart devices to keep patients in touch with their loved ones. Collecting iPads for hospitals is a great way to keep patients' spirits up as they recover from this little known virus.
iPads for Hospitals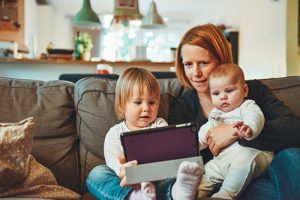 Preventing patients from accepting visitors could leave them in nearly-complete isolation. But caregivers who wanted to boost morale vowed to collect donated iPads and tablets to keep their patients entertained and in the loop with their loved ones. As doctors and nurses work non-stop to keep patients comfortable and continue to improve their health, it is becoming increasingly difficult for them to find ways to help patients reach out to their families. In the event that smartphones are allowed in the ICU, some seniors don't even own one to use to video chat with their family, leaving them at the mercy of sympathetic hospital staff to help them reach out. Originating in Boston where nurses and doctors were lending their own devices to patients to video chat with their families, word quickly spread across New England that there was a need for smart devices in hospitals. Dr. Rachel Hitt, a breast radiologist, acknowledged that doctors and nurses lending devices to COVID patients wasn't safe for them to do, but she knew there was a need to help these patients maintain contact with their families and friends. She began reaching out to colleagues, family members, and friends to see if they had a device they would part with for a good cause. The people she contacted quickly reached out to others, getting the word out around the country.
iPad Collection
Maintaining state guidelines and refraining from any contact, Dr. Hitt's sons collect devices in Ziploc bags off porches of people who have offered to donate. Hitt only asks that the devices are in good condition, wiped clean of all data, and have a front-facing camera. Her boys wipe the devices clean with sanitizing wipes and ensure the devices are in working condition. After the sanitizing process, they are ready to be distributed among hospitals, so far 150 devices have gone to 10 facilities in New England. The arrival of donated iPads has made patient-family contact much simpler. Nurses are able to teach the patients how to use the video chat option on the tablets, and it even lifts the staff's spirits when a patient can finally see a face they love and cherish in the safety of their room. Families and friends of COVID patients are also overjoyed by hospitals collecting iPads for them, and the ability to stay in touch with their recovering loved ones. If you are able to donate a device to your local hospital, check out iPads to Hospitals.
Insurance Questions?
Empower wants to help you get the best insurance for your needs and the most for your money. We want to help you stay on top of your health.
CALL US at (844) 410-1320
Get affordable life insurance quotes by clicking here.
See our other websites: