Private Disability Insurance: Why You Need It
May is Disability Insurance Awareness Month, a time when the insurance industry comes together to do something about the enormous gap that exists between Americans' need for disability insurance and the actual coverage they have.
Disability insurance is a form of income protection that pays a percentage of your monthly income – typically 60% or more – if you can not work because of illness or injury. It fills the coverage gaps left by health insurance plans and life insurance policies. Disability insurance is the most misunderstood of all major insurances and is often overlooked when building a financial safety net.
There are three main types of disability insurance:
short-term disability insurance (STDI)
long-term disability insurance (LTD)
Social Security Disability Insurance (SSDI)
Do I need Disability Insurance if I have Short-Term Disability through my employer?
Many people have a Short-Term Disability Insurance plan (STDI), through their employer and assume they are covered if something happens. However, STDI plans do not protect your job if your employer refuses to hold it. It may be surprising to hear that employers can legally fire an employee (at least in Texas) while on leave. Additionally, STDI benefits can end if you lose your employment while disabled. This means if you become disabled and you lose your job, your short term disability benefits may end. In contrast, a private Long-Term Disability policy, that sticks with you from job to job, provides continued benefits if illness or injury keeps you out of work for a longer period of time.
Without disability insurance, many Americans would be forced to use savings to help them meet their expenses if they were unable to work due to illness or injury. This is not good news considering nearly 70% of Americans have less than $1000 in savings. Americans need a reality check when it comes to protecting their family's financial future and Life Happens is working hard to do just that.
Life Happens is a nonprofit dedicated to educating US consumers about the importance of life insurance for sound financial planning. They share powerful, real-life stories about people who took financial responsibility with life insurance and related products. Keep reading to learn how Scott Rider – diagnosed with Parkinson's disease at just 47 – protected his income and family thanks to the disability insurance he purchased.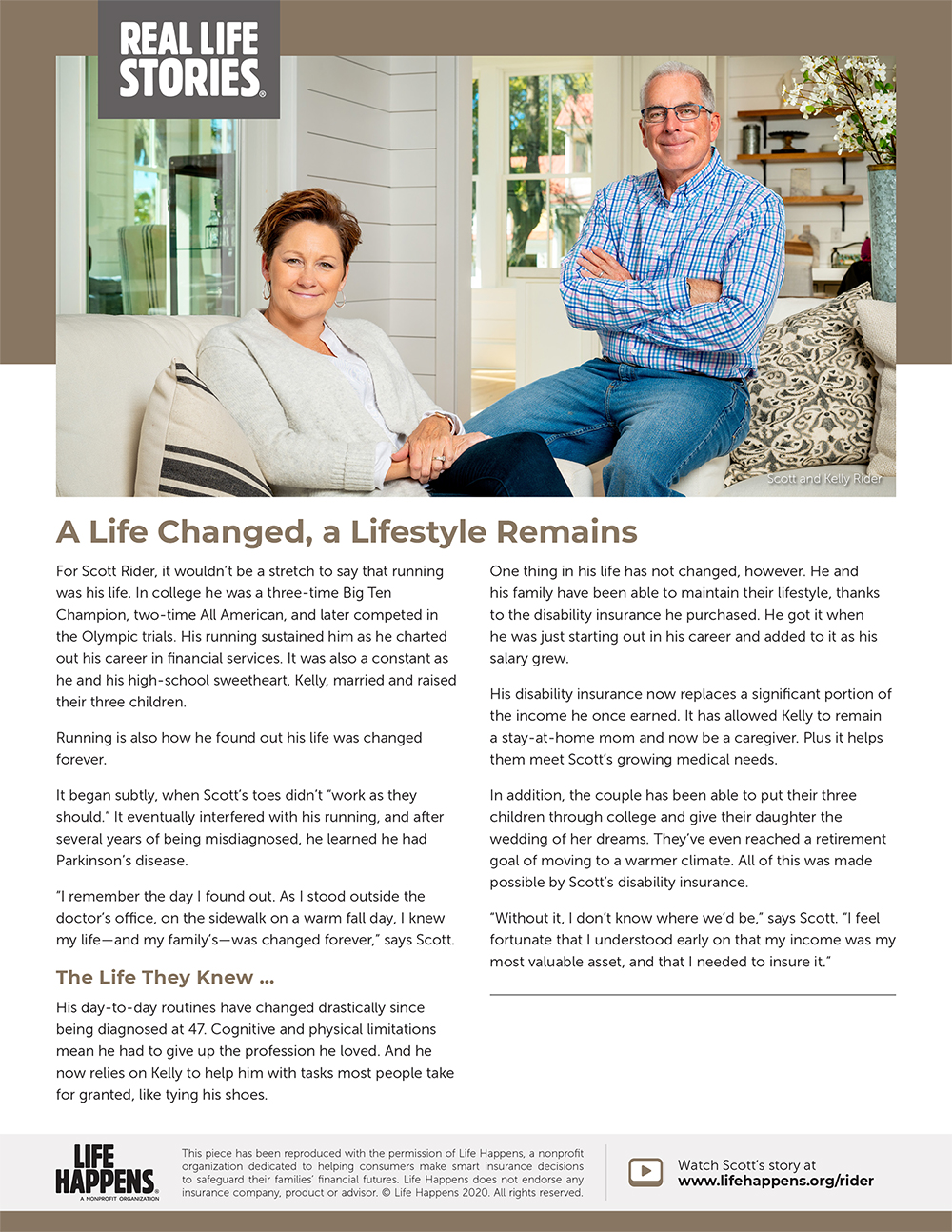 We Can Help
We hope Scott's story inspires you to consider the important role life insurance has in a family's life. Empower Brokerage wants to help you understand what coverage you need and how to save money when getting it. We want to help you stay on top of your health and protect your loved ones. CALL US at (844) 410-1320
Get affordable life insurance quotes by clicking here.
See our other websites: