Telemedicine for Mental Health
Did you know you can use telemedicine for therapy and other Mental Health services? It's true. Telemedicine, also known as Telehealth, is on the rise and re-shaping the healthcare landscape. And there is no place that telehealth can have more of an impact on than with behavioral health. The National Institute of Mental Health reports 46.6 million Americans experienced mental illness in 2017. However, nearly 60% of them did not receive any mental health services. This significant lack of behavioral healthcare services has devastating social and economic consequences. Mental illness costs America $193.2 billion in lost earnings every year.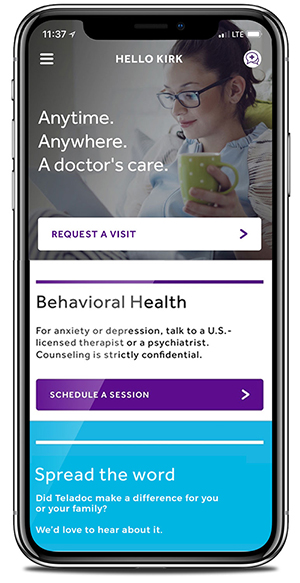 Primary care and other physical health providers quickly adopted telemedicine. In contrast, behavioral health providers lag behind on adopting telemedicine. To help fill this need, healthcare technology companies are stepping up to offer online mental health services, such as therapy, to overcome barriers of cost, time, and stigma. Teladoc, for example, offers both primary care and behavioral health virtually. These efforts are starting to increase access to mental healthcare for more Americans.
How Telemedicine Works for Behavioral Health
For this example, we used Teladoc to get started. Most telemedicine companies such as CareClix or Doctor On Demand will be similar. You can either a) download the Teladoc app on your phone or iPad, b) go to their website at www.teladoc.com or c) call 1-800-Teladoc for assistance. You are asked to fill out a brief medical history, just like you would at a doctor's office.
Tip: We found the easiest method was to start on Teladoc's website from a computer and then download the app later when our account was all set up.
Since this article is about receiving Behavioral Health through telemedicine we will focus on obtaining a therapist through Teladoc. But keep in mind Teladoc offers primary care too. Their doctors and specialists can help you with the flu, infections, prescriptions, skin conditions or offer expert advice wherever you are by phone, video or app.
Once your account is all set up request a visit, which is very simple to do on the app.
Open the Teladoc App and select "request a visit".
Select the family member who needs help and select the state you are in.
To connect with a therapist, make sure to choose Behavioral Health
In order to match with the best therapist, a series of mental health-related questions are asked. You can select if you prefer a male or female therapist.
A list of providers populate. You can filter this list even more by selecting the filter icon. (see picture)
After choosing a therapist, select a day/time that works best for you and if you prefer a phone call or video call.
Within minutes a licensed therapist will send notification (by email or text) to confirm the appointment. Tip: Opt into notifications so you will receive reminders about upcoming doctor visits.
Congratulations
Pat yourself on the back. You just took the first step towards feeling better. Confidential, judge-free, guilt-free counseling by phone or video is on the way. And if you have a health insurance plan that uses Teladoc, such as Ambetter, your appointment could be free (depending on your plan, of course). Make sure to call Teladoc if you have any questions or technical issues with the app. 1-800-835-2362
Got Insurance Questions?
Empower Brokerage wants to help you understand what coverage you need and how to save money when getting it. We want to help you stay on top of your health. CALL US at (844) 410-1320
Get affordable health insurance quotes by clicking here.
See our other websites: