What is Disability Income Insurance?
Disability Income (DI) provides supplemental salary in the event an illness or accident results in a disability that prevents the insured from working at their regular employment. Benefits are usually paid monthly so the insured can maintain a comparable standard of living and pay recurring expenses, states Investopedia. Disability insurance can provide relief in the event that you are ever disabled due to an accident or injury.
How does Disability Insurance Work?
If you are disabled and unable to work disability insurance will kick in and typically cover between 45% to 65% of your annual income, tax-free. Disability income insurance can be obtained in two ways.
Get disability insurance through your employer – Some employers offer disability insurance as a benefit. The employer could even pay a percentage of the premium on your behalf, making it much more reasonable for you to obtain.
Get Disability insurance through the marketplace – This can be more costly, however for those who work for employers that do not offer disability income insurance or even those that are self-employed this could be important coverage to get. You never know what's going to happen and if you are out of work, you could be out thousands of dollars. Not to mention the financial burden of missing regular bill payments or draining your savings and investment accounts.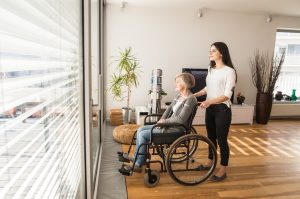 Why should I get disability insurance?
There are many reasons to get insurance. The first of which is you will always have bills and financial obligations for as long as you are alive. Whether that is taking care of your kids, or feeding and housing yourself. Bills are not going away anytime soon, but accidents happen. Work-related or not. Disability income insurance is there to protect you if you can't work. It's paid out as a monthly check until you are able to get back to work. Don't let yourself be put in a tough financial decision because you did not plan for the unexpected. Protect yourself, your family and your finances with disability income insurance.
Get with one of our life and financial experts today! They can help you choose a policy. Additionally, they can conduct a policy review to ensure that your current policy is still right for you!
1-888-539-1633