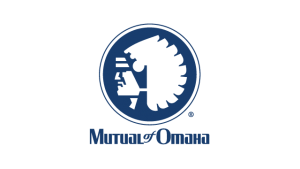 When most people think Mutual Of Omaha, they think of their incredible Medicare Supplement plans, but they also have a wide range of life insurance policies that could be great additions for you and your family.
Term Life Insurance
Term life insurance plans from Mutual Of Omaha's offer plans for 10, 15, 20, and 30-year terms with an age range of 18-80 years covered. These customizable coverage options are great for anyone who needs coverage for a specific time or needs extra coverage temporarily while they are going through life-changing events such as starting a family.
Living Promise Whole Life
Mutual Of Omaha offers the Living Promise plan as a final expense option with two different plan options, level benefit plan and graded benefit plan. On the graded plan, if the client passes away during the first two years the beneficiaries will receive 110% of the premiums paid but if it were to happen after they would receive the whole benefits package. Built into the level benefits plan there is an accidental death benefit rider.
Children's Whole Life
Mutual Of Omaha also offers options to cover your child, which can have a policy issued from the ages of 14 days to 17 years. These policies allow parents to guarantee future coverage for their children even if their health and occupation would have made it more difficult. These policies are great for you if you are a new parent and want to ensure that your children can be covered and could purchase additional coverage in the future.
Guaranteed Universal Life
Guaranteed Universal Life policies are life insurance policies that last your entire life and have a guaranteed rate of return that is a minimum of 2%. These policies are great for you if you want to have a permanent life insurance policy that delivers a guaranteed rate of return that lowers your risk.
Indexed Universal Life
Indexed Universal Life policies from Mutual Of Omaha offer permanent life insurance coverage that allows for you to have the potential to outperform the traditional fixed interest rate by tying their interest rate to a selected market index such as the S&P500 index.  With this, they offer downside protection that guarantees that you will not receive less than 0% even if the market index happens to go negative. These policies are right for you if you highly value the opportunity to earn more with their money despite the risk.
Streamlined Underwriting
One of the perks of Mutual Of Omaha's life insurance process is that they have streamlined their underwriting process with express auto underwriting that allows you to learn of your approval status as soon as you enter all of your information.
Got Life Insurance Questions?
We hope this information on Underwriting Life Insurance During COVID-19 is helpful. If you'd like to learn more about life insurance policies and carriers, please give us a call at (888) 539-1633.
Get affordable life insurance quotes by clicking here.
See our other websites: