New Apple Watch Saves a Life
The most recent tech news: New Apple watch saves a life in Oklahoma! Apple has been known to use technology in innovative ways, most recently adding cardiac monitors to newer Apple watches. These watches have the ability to detect abnormal heart rates and alert the individual wearing the watch of a serious cardiac issue. Recently this new Apple watch saved a life in Oklahoma. A normal teenager in Oklahoma was following his everyday life in school when all of a sudden his apple watch notified him of a cardiac event. "The teenager expressed his concern about the notification due to the fact that he didn't understand it". Turns out, something was wrong with his heart according to Tiziana Celine, A reporter for the tech times.
The teenager did ultimately recover, he had an 8-hour surgery. He was able to return to the football field and continue life as it once was, just with an Apple watch on full-time. Even one of the teenager's science teachers decided that getting an Apple watch could be life-saving for him in the future so he went out and got one with the heart rate monitor.
Can Other Smartwatches Save Lives?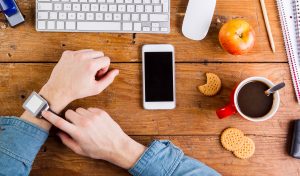 Some other smartwatches have some similar features. However, none of the technology is exactly the same thing. For example, here are some watches that have similar technology.
Fitbit Ionic – A GPS smartwatch packed with fitness guidance, 24/7 heart rate, health and wellness insights, on-screen workouts, phone-free music, payments and more.
Forerunner® 235 – This watch has a Heart Rate Monitor, the ability to customize your watch and training.
Fitbit Charge 3 – An advanced fitness tracker that uses 24/7 heart rate & insights about your body, your fitness and everything in between.
Withings Steel HR – This watch collected calories, steps, heart rate, and even exercise.
Letsfit Fitness Tracker HR – With a brand new design and more functionalities, the all-new ID215G is here to take your fitness to a whole new level. This watch also includes the heart rate, monitor. These watches can help prevent heart attacks and could even help you get proper diagnoses for any heart issues that you may not even know about.
Get with one of our life and financial experts today! They can help you choose a policy. Additionally, they can conduct a policy review to ensure that your current policy is still right for you!
1-888-539-1633