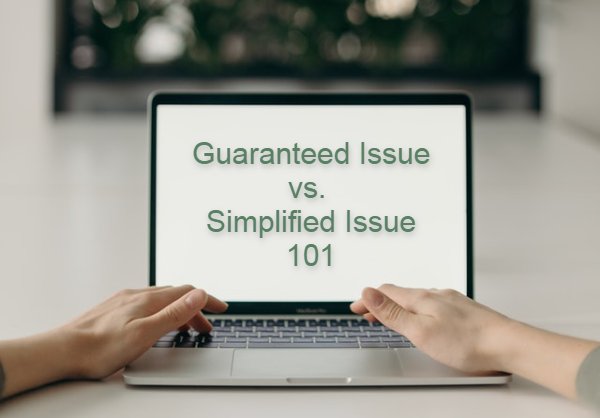 You have probably heard the terms guaranteed issue and simplified issue in the past, but you may not be aware of the differences between the two. When learning about the different underwriting processes, it is easy to get overwhelmed with too much information. It is important to break the info down into bite-size chunks that are easy to understand, so we compiled these brief descriptions of guaranteed and simplified issue policies to help you decide if one of these options is the right fit for you!
Guaranteed Issue Policies
Guaranteed issue refers to an insurance policy that ensures coverage for all applicants. In other words, the policy is guaranteed to be issued to anyone who applies – regardless of pre-existing health conditions, age, or income level – as long as they pay their monthly premiums. Guaranteed issue typically will not get a beneficiary the highest possible amount of coverage, but there are some great guaranteed options on the market for those who may be turned down from other plans due to health concerns or other issues.
Simplified Issue Policies
Simplified issue policies have become more common during the coronavirus pandemic due to social distancing efforts. These policies substitute in a shortened health questionnaire in place of a formal medical exam. Currently, many companies are issuing simplified issue policies with the possibility to gain more coverage or pay a lower rate if the beneficiary chooses to complete a traditional medical exam after the pandemic. Simplified issue policies usually carry lower rates and better benefits than guaranteed issue policies but will not provide as much coverage as those policies that require a full medical exam.
Which policy should I choose?
If you are relatively healthy, you'll likely get the best premium rate and coverage by undergoing a medical exam. The exam typically includes taking an applicant's weight, height, and blood pressure measurements, as well as a blood, urine, or saliva sample. Applicants will also have to answer some questions about their personal and family health histories and their lifestyle.
Check out our article on how to prepare for your life insurance medical exam!
If you have a health condition that could disqualify you from getting a policy or are unwilling to complete a medical exam, you may want to look into the guaranteed and simplified issue plans available on the market today. These plans can be life, disability, long-term care, final expense, or other types of insurance policies.
You should also consider how much coverage you need, as guaranteed and simplified issue life insurance policies will likely have a lower payout cap. Many guaranteed or simplified policies cap between $250,000 and $500,000, while policies with a medical exam may payout up to a $1 million death benefit. When making your choice, make sure to consider your dependents, debt, and your family's overall cost of living.
Life Insurance Questions?
We hope this information on guaranteed issue and simplified issue policies is helpful.
If you'd like to learn how we can help you plan your retirement, call Empower Brokerage to speak to one of our Life and Annuity experts (888) 539-1633
Get affordable life insurance quotes by clicking here.
See our other websites: